Okay so the title explains it all. No, it doesn't? Well then, I met Deepika Padukone (Yayy! still can't believe I did, I have been pinching my self ever since then)
The recent post that I wrote on Garnier BB Cream got me this chance. This event was organized by Garnier in association with IndiBlogger. If you haven't read the post as yet, then here is the link-
Garnier BB Cream
Okay so I am sure you all have too many things on your mind right now. Like how did I? When did I? Why me and not you? Where? What happened then? How pretty is she? How was the meet and all? Right? Rest assured I am answering them all right here.
28th October 2014, Tuesday
I won first prize in the contest organised by IndiBlogger and Garnier for my review of the BB Cream and as promised by the team I got to meet Deepika Padukone at Sofitel Hotel, BKC.
Well there was a little wait before the star could meet the winners of IndiBlogger contests and Twitter contests (there were 2 winners chosen from each of the two contests). We were all so excited and one of the Twitter Contest winner was a die hard fan, she even had a fan club and knew almost everything about her, I was amazed by her knowledge. So yes, we were all very excited to meet The Diva herself.
At around 7, Deepika got out of her black Audi with her bodyguard and she was then followed by her PR and makeup artist in the other car. She looked fabulous in Pankaj & Niddhi outfit.
Have a look: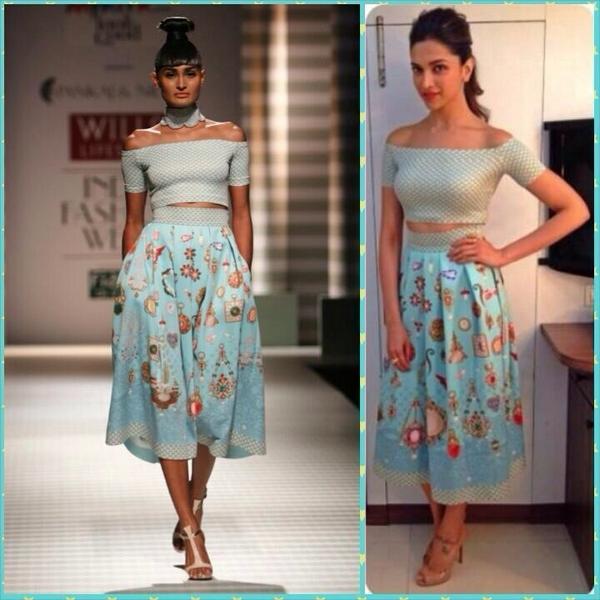 Deepika wore fresh off the runway Pankaj & Niddhi seperates
Then the winners were called one by one to meet her. We were all very excited but at the same time we were nervous. Finally when it was my turn to meet her, I was spellbound. I started by singing a song for her which she found really sweet. I also kept telling her how pretty she was and how I loved watching all her movies. She was really sweet and very humble during the entire conversation. She spoke to each one of us very sweetly and we were all starstruck!
Despite she having a very busy day, promoting her recently released movie Happy New Year she took out time for her fans, isn't that really sweet? Well after meeting her I have become a bigger fan than what I was.
Here are some of the pictures of the event, have a look at them.
Managed to click this as she entered the Hotel
She looked gorgeous
Deepika signing an autograph
(Image Source: Garnier India's Twitter and Facebook page)
Fin
ally
as the end of the event
all winners were given
a G
arnier H
amper
and
a di
ary signed by Deepik
a P
adukone. Th
anks so much IndiBlogger
and G
arnier for this lovely opportunity.
Well, this is how the hamper looked.
Going to soon review the products from the hamper. Stay tuned :)